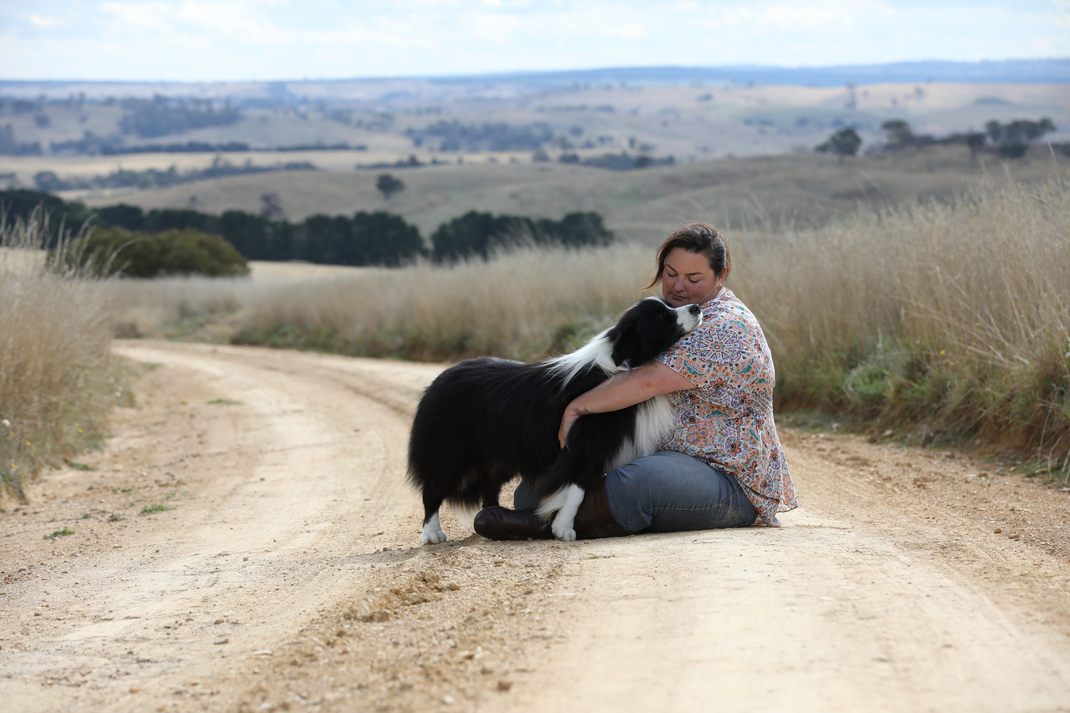 Spending her childhood on a Queensland cattle property surrounded by long-haired Border Collies has made Jo Symonds a lifelong fan of the breed. When she and her husband were employed to manage a sheep and cattle station at Black Springs outside Bathurst in the mid-2010s, starting her own breeding program seemed like a logical next step.
"I was in my early twenties when I lost Bazza, the Border Collie I'd owned since my teen years, and it took me a lot of years to get another one," Jo says. "I began by purchasing dogs from other breeders and then, once my son was a bit older, I moved forward with my own kennel."
Today, she is the proud owner of 10 dogs, whose ranks include a couple of champions of the ring and several high performers in the paddock.
"We try to produce a structurally sound and correct all-round dog that does what it was bred to do and conforms to the breed standard," Jo says. "Showing and working aren't mutually exclusive – several of our dogs have done both although I don't tend to work them while they're in the peak of their show condition because it's very hard on their coats."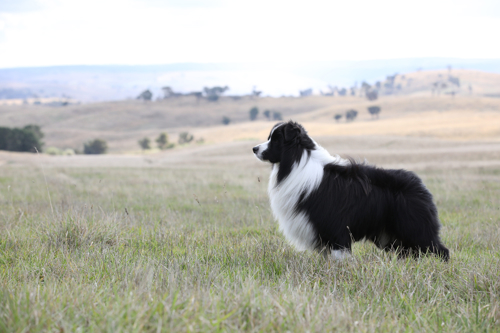 Litters are produced on an ad hoc basis: some years bring forth three or four and others none.
"We generally breed when we want to keep something ourselves – a line, or something we're hoping to produce for work and show," she explains. "Farm life is busy so it has to work around our lifecycle as well; whether or not we have time to raise a couple of puppies."
Working the paddocks
While the days of sheep dogs running behind horses from sun-up to sundown have largely gone, working Border Collies like Jo's still clock up a stack of kilometres at mustering time.
"The country we're in is quite hilly and rocky, and we have to be able to send the dogs over the back of paddocks that we can't access on the quad bike," she says.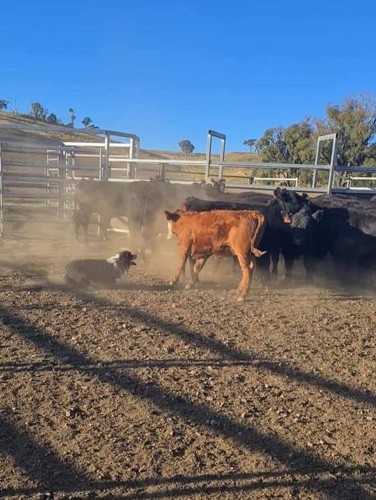 "And the sheep aren't trained like herding sheep – they'll go wherever they want and if they don't want to join the mob they'll hide or take you on a hunt. The dogs have to have the turn of speed and the nous to keep with them, and then get ahead and block them up and turn them back the way we want them.
"A good working dog will do the work of four or five hands. They're irreplaceable in that way."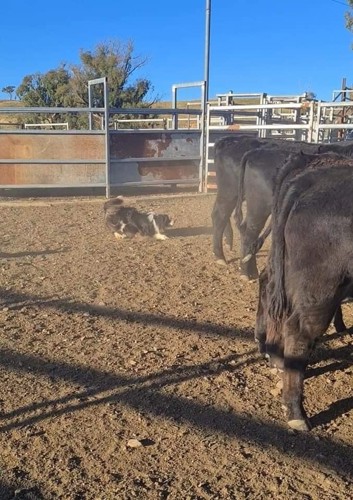 Feeding for speed and stamina
A diet of high protein, high fat Black Hawk kibble provides the Border Collies with the nutrition they need to go the distance in the paddocks and present in peak condition in the ring.
"We aim to keep our dogs healthy, lean and muscular," Jo says. "You don't want any dog to be overweight, let alone a dog that's working because that creates extra risk of injury to joints.
"Conversely, you don't want a situation where they're not getting enough food and have no energy. It can be quite finely balanced but, as a breeder, you get a real feel for it, over time."
Transitioning her entire kennel onto Black Hawk Working Dog in early 2022 has yielded excellent results.
"One of the issues we had with other working dog mixes was that their fat content was too high and it made the dogs quite sluggish," she says.
"They just weren't as ready and it didn't sustain their energy levels. Since switching to Black Hawk, we've also noticed that we haven't had to supplement the dogs as much during busy periods like mustering and shearing."
On an average day, each dog receives a couple of cups of Black Hawk Working Dog; slightly less if they're having a spell, and more if their activity level is higher.
"Our coat quality has improved from it and all the dogs love the taste," Jo says. "They really look forward to having their dinner. My dogs love it that much you can even use the biscuits as treats for training!"
Creating a community of owners
While some of Jo's dogs go to working homes, the majority are destined for family life. Great care is taken to place them with compatible owners.
"Every family is assessed by us, and puppies are matched to suit their lifestyle and experience," she says.
"I'm not going to send my most high drive pups, ones that would be very full-on workers, into Sydney, for example. But we do get lower drive pups and if I have an inquiry from the city, from active people with a yard who know how to keep their dog mentally stimulated, absolutely, we'll consider them."
It's not a case of 'goodbye and good luck' when the pups are collected at eight weeks either. Jo offers lifetime support to owners and asks that they provide updates on their dogs every six months.
Border Collie families are also encouraged to connect with each other via the Uttercharm Facebook group and to catch up with Jo when she's on the show circuit.
"Keep in touch and, as the dogs grow, you start to see what to expect and get more predictability in what you're producing, temperament wise," she says.
Her commitment to the breed makes for a busy life, but Jo and her family wouldn't have it any other way.
"We don't get a lot of time to stop but, if it's what you enjoy, you just make it work in your life," she says. "It's a hobby but it's one we're very passionate about."
Whether you have a working dog or a family pet, the correct nutrition and care will help them live a longer and healthier life.