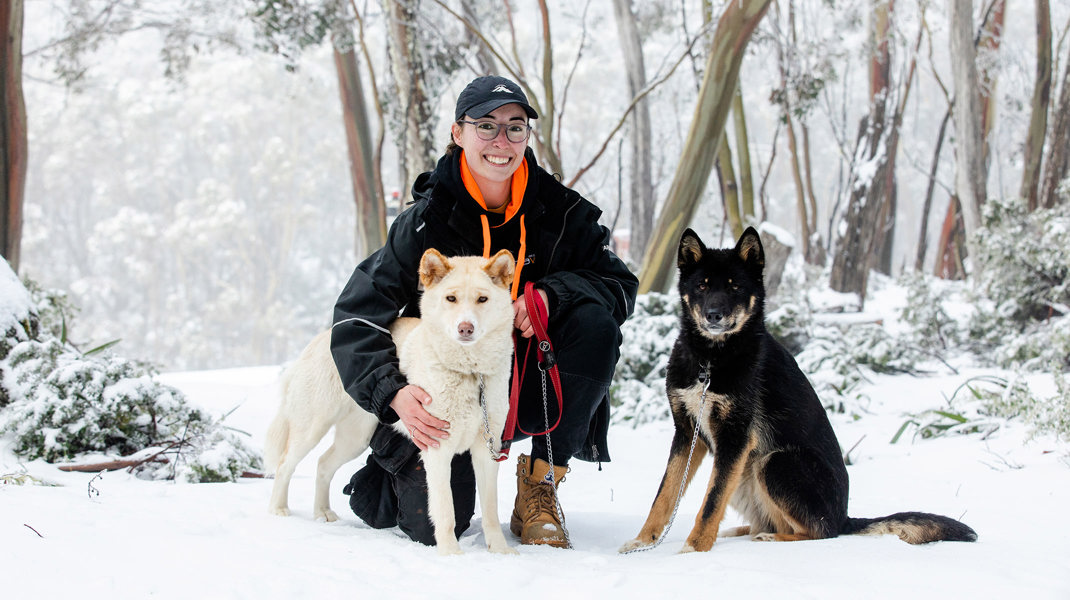 Situated on the Victorian end of the Great Dividing Range at 1450m altitude, the Mt Baw Baw Alpine Resort offers an array of unique nature experiences for every season. But for animal lovers, the biggest drawcard might just be the Alpine Dingo Resource Centre, where visitors can get up close and personal with these rare Australian canines.
Protecting an Aussie native
Among a sea of snow gum trees in the Australian alps lies the Mt Baw Baw Alpine Dingo Resource Centre. For four years now, the team here has been dedicated to the education and conservation of one Aussie native: the alpine dingo (Canis lupus dingo).
The initiative is part of a state-wide effort to encourage the protection and preservation of this threatened species. "Current protection laws in Australia aren't exactly in their favour, so we're focussing on preserving them and educating people about the species," says Taylor Woods, Environmental Services Officer at Mt Baw Baw.
In addition to managing the resort's environmental needs, Taylor is in charge of looking after resident dingos Warragul, Rowdy and Bunji. "We've had Warragul, or 'Gully' as we call her, since she was a cub. She's a pure cream alpine dingo and an absolute sweetheart. She has an excellent character for working with schools and children."
Then there's Rowdy, who's part desert and part alpine dingo. And the latest addition to the pack is one-year-old Bunji. Like Warragul, he's a pure alpine dingo. He also happens to have a famous dad: alpine dingo Wandi, who was found In Wandiligong, near Bright as a cub, before DNA testing confirmed he was pure alpine dingo.
For Taylor, working with dingoes every day is more than just a job. "I've always had dogs. I don't think there was a time in my life when I didn't, so this sort of gave me that similar experience." Volunteering with the local RSPCA and wildlife sanctuaries in Canada also helped her prepare for the task.
"Although dingoes are different to dogs, there are a lot of similarities in terms of animal husbandry, which I could apply here. It helped me gain a bit of an understanding of how to approach working with dingoes when I first started."
The team also works closely with the Australian Dingo Foundation as well as the Dingo Discovery Sanctuary. "They have a wealth of knowledge and are always there to answer questions and give us feedback," says Taylor.
Circulating in high altitudes
Though dingoes are often associated with wild dogs and belong to the canine family, they're an entirely different species "The biggest challenge has been understanding the species itself and their behaviour," Taylor points out.
Broadly speaking, there are three ecotypes of dingoes in Australia: the desert dingo, the tropical dingo and the alpine dingo. All of them have different traits, which benefit them in their native habitat.
"As apex predators, dingoes play an important role in our ecosystem. They help manage the spread of so-called feral pest species that pose a threat to our natural flora and fauna."
Alpine dingoes, like the ones at Mt Baw Baw, not only have a thicker coat to survive sub-zero temperatures in high altitudes, but they also have increased circulation in their feet to keep their paws warm in the snow.
Maintaining a healthy balance
Dingoes are known to be opportunistic hunters, meaning they will go for any food source available at the time. "In their natural environment, they'd eat anything from fruits to grubs to lizards to grasses and even small to medium mammals." This makes them especially adaptable to environments with variable food sources.
As opposed to some domesticated dogs, dingoes haven't developed the ability to digest grains, which is why for those living in captivity, a grain-free diet is key. "We try to keep it as close to their natural diet as we can, which is why it's important we feed high-quality kibble like Black Hawk Grain Free," says Taylor. "This way, we can ensure they get all the nutrients they need."
On top of that, Warragul, Rowdy and Bunji enjoy snacking on fresh kangaroo mince or offal meat mixes, chicken necks, as well as eggs and sardines for healthy fats and a shiny coat.
"We try to get as much nutrition into their diet as we can while also stimulating their senses."
Other than that, their diet is comparatively low in fats, even throughout the colder winter months. "Their hunger does change between the green and snowy seasons. They definitely need more food to keep themselves warm in winter, but we're always watching their fat levels to ensure they maintain a healthy weight range."
Meet and greet
Visitors to Mt Baw Baw can learn more about these four-legged natives in an intimate cuddle session or on a stroll along the resort's picturesque alpine trails.
"Their behaviour completely changes during summer and winter," Taylor explains. "They love the snow and get really giddy in snowy conditions, jumping around and digging. In the summer months, you can watch them hunt for lizards, chase flies and sniff around for wombat poo."
"People love being able to interact with them in their natural environment and it's been so valuable to the public's learning experience."
Eventually, the team at the Alpine Dingo Resource Centre hope to support research groups and the public to learn enough about the species to help governing bodies put more effective protection laws in place and secure the future of this Aussie native in its natural habitat.