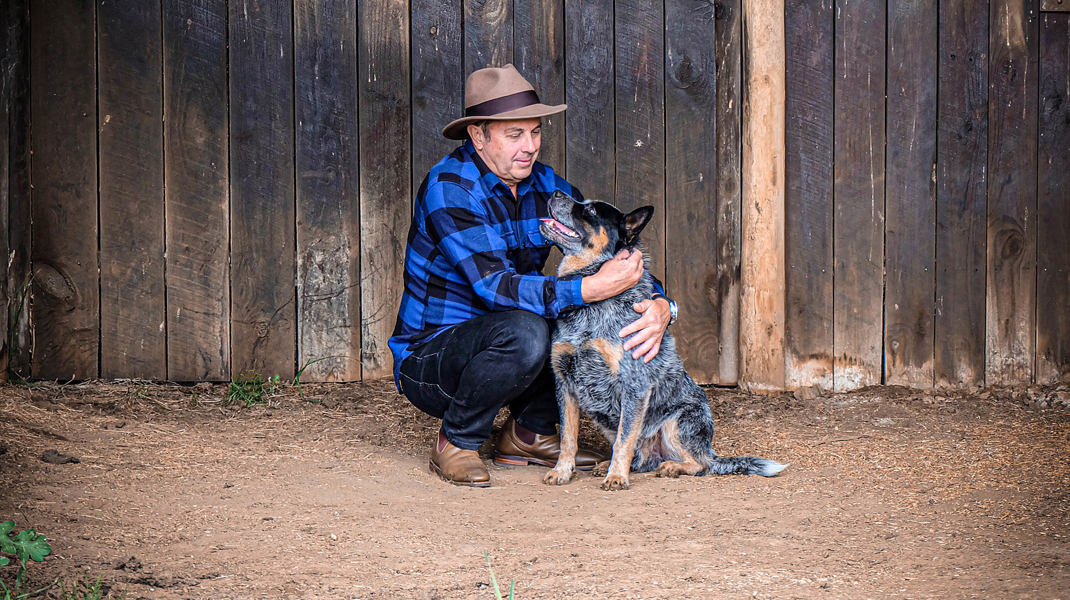 For Warren Greasley and his wife, Leanne, breeding and showing Australian Cattle Dogs has been a way of life for more than three decades. Their love of the breed was born in Western Australia in the late 1970s, and they've been hooked ever since.
Quintessentially Aussie
It was Warren's wife, Leanne, who was first introduced to the Australian Cattle Dog (ACD) while she was working as a jillaroo in Western Australia in the late 1970s. Used as working dogs on the property, she was impressed by their strength, stamina, intelligence and loyalty. The duo welcomed their first ACD into their home in 1985 and attended their first dog show the same year.
"The Australian Cattle Dog is an Aussie icon and very special to us, having been bred in Australia for driving cattle over long distances across rough terrain," Warren says.
"What stands out to me is their devotion to the task they're given, and their owner. They are very loyal and trustworthy dogs that really stick to you. They're like glue actually! And they possess the brains and versatility to excel in all disciplines."
"We've won multiple Royal Show Best of Breeds with our ACDs at the prestigious Royal Melbourne Show, Sydney Royal and Canberra Royal Show, including Fourth Best in the Working Group at Melbourne Royal in 2016, as well as Best in Show All Breeds and multiple Australian Cattle Dog Breed Specialty wins," Warren explains.
Aussie-made food for Aussie dogs
When it comes to their dogs' diet, Warren and Leanne are passionate about using the very best Australian-made products. They were originally introduced to Black Hawk by a friend over a decade ago, and have been feeding them Black Hawk Original Adult Lamb & Rice ever since.
"We've been feeding our dogs Black Hawk since its development 10 years ago and we have never looked back," Warren says. "We're impressed that all the products are manufactured in Australia with ingredients sourced in Australia. Our adult dogs are fed Black Hawk Original Adult Lamb & Rice with great results. We raise our puppies on Black Hawk Original Chicken & Rice and switch them over to Original Lamb and Rice at about nine to 12 months."
Feeding the dogs a high-protein diet rich in zinc, iron and vitamin B12 keeps them performing at their best, while the addition of emu oil promotes a healthy coat, skin, joints and mobility.
"We are continually asked how we get our dogs looking so fit and healthy with glorious, super-shiny coats. And we're happy to credit this to feeding Black Hawk."
"To me, Black Hawk represents a quality Australian-made product. That's why we've been an ambassador of the product for five years. We always recommend Black Hawk products to our new puppy owners."
Whether you're a breeder, have a show dog or a family pet, the right nutrition will support them in living a healthier, happier life.