The key to a healthy and happy dog is feeding them a nutritious and balanced diet.
Our Black Hawk Adult Dog recipes are complete and balanced foods specifically developed for adult dogs and designed to meet their daily vitamin and mineral needs. Black Hawk dog food is highly palatable so you can rest assured that your dog will love the taste and look forward to eating it every day.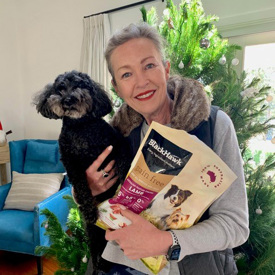 Merv loves his Black Hawk nearly as much as me. Where every ingredient matters Black Hawk provides Merv with a complete diet that he loves. And it's 100% Australian!!
Kim, Merv's mum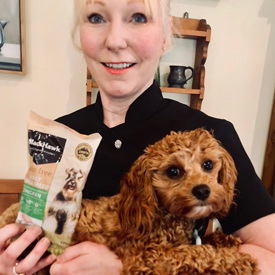 "Poppy absolutely loves her Black Hawk small breed Grain Free Chicken food, as well as the Black Hawk Chicken Jerky treats that she devours in seconds.
Her bowels and coat have been so much better since eating the Black Hawk products and good to know they are sourced in Australia too!"
Suzie, Puppy's mum

Not just this one but all Black Hawk dog food products are better than any treat I have tried to use in training my dog. He can smell unopened packaging miles away, and he grew like I'd put him on steroids. He is an American Staffordshire Terrier and bulked right up, love your products, thank you so much.
Dex
Frequently asked questions
Where is Black Hawk dog food made?
Black Hawk kibble is made at our new state of the art facility in Parkes, New South Wales, using fresh local ingredients, ensuring nutritional excellence and superior quality.
Our kibble is gently roasted at a lower and more even temperature, which creates higher palatability. Put simply, our kibble is even tastier.
We undertake regular audits not only of our ingredient suppliers, but of the factories which make our foods, to ensure compliance to our product specifications.
These sites adhere to good manufacturing practices, dictated by organisations such as the PFIAA (Pet Food Industry Association of Australia), and the NZPFMA (New Zealand Pet Food Manufacturer's Association). These organisations uphold and advocate for the highest standards of pet food production and PFIAA sets an Australian Standard (AS5812), acting as the 'public face' of the pet food industry.
Does Black Hawk dog food contain any additives or preservatives?
Black Hawk wet and dry food contains only natural preservatives. A natural preservative is one that occurs naturally in nature, as opposed to a chemical preservative that is made synthetically such as BHT, BHA or ethoxyquin which are often found in cheaper brands.
The natural preservatives we use in our products include rosemary extract, vitamin E (tocopherol) and vitamin C.