See what some of our Black Hawk fans have to say about their cats and dogs thriving on Black Hawk.
If you and your pets would like to be featured here, please send us an email describing why you love Black Hawk along with two high resolution images and we will display the best submissions here. Email us at masterbreeders@blackhawkpetcare.com.au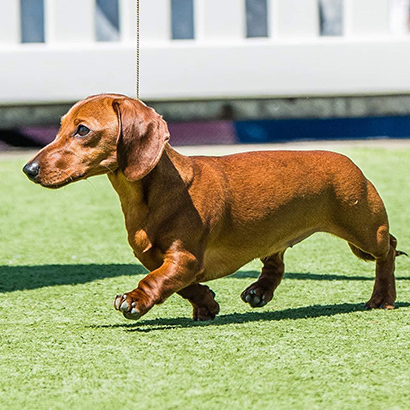 I am a breeder/Exhibitor of Miniature Smooths Dachshunds for more than 20 years and have fed Black Hawk now for at least 10 years. Our dogs thrive on Black Hawk, their coats shine and they perform well on both the Black Hawk Original Adult Chicken & Rice and Black Hawk Original Adult Lamb & Rice varieties. They also love the Black Hawk Chicken Jerky Strips, they will pretty much do anything for one of these. Our puppies are raised on Black Hawk Puppy Original Small Breed Lamb & Rice, giving them all the vitamins and minerals needs to grow up strong and healthy.

Our show dogs are solely fed on Black Hawk and are some of the highest awarded dogs within the breed both at a State and National level. I advise all of my puppy buyers to feed Black Hawk and they too have had excellent results.

Corrienne Irvin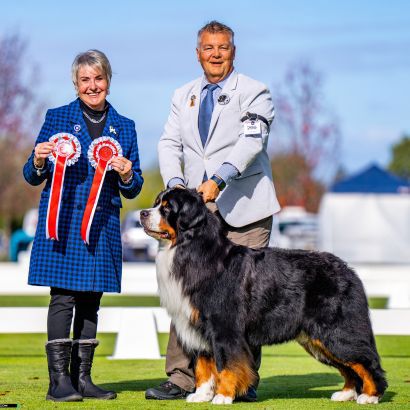 Supreme Champion – Archer

Archer is WA's number 1 All-Breeds show dog and the Bernese Mountain Dog Breed Record holder.

Keeping him in absolute optimum condition is paramount to his continued success.

Archer and all our show team are fed exclusively on Black Hawk Grain Free Adult Salmon,.The Omegas and all natural real food contained in this product ensure their skin and coat are kept in the ultimate condition producing rich colours and a vibrant black glossy sheen.

The kibble size is perfect for a large breed and the mix of 52% protein and 48% Vegetables, Fruit & Oils provides a perfect balance for our breed.

It's simple for us, Black Hawk Grain Free Adult Salmon maintains consistency of weight and condition and provides us with a complete diet resulting in very happy and very healthy dogs.


Rick & Kathryn Berwick, Black Hawk Ambassador, WA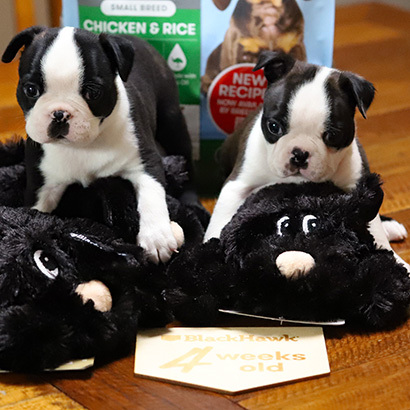 We have been feeding Black Hawk to our dogs for many years. I have always loved the way their coats shined and the way they never left any behind. We were very excited to try the new recipe Black Hawk Puppy Small Breed Chicken & Rice, we are happy to say the babies loved the taste and size of the kibble. The puppies have thrived since weaning onto the new recipe. We could not recommend Black Hawk more and will continue to feed our dogs Black Hawk as we believe it keeps them in top condition.
Patrick and Julie Walsh
Kypajuka Staffords & Boston Terriers, QLD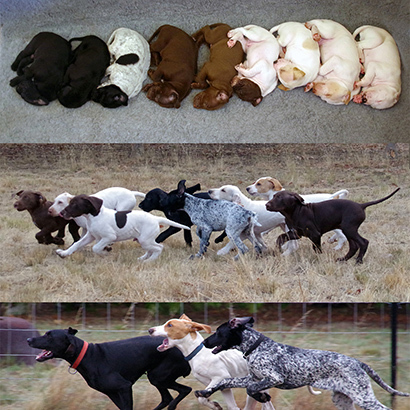 You get out of life what you put into it, simple. The same principle applies to my working sled dogs. Black Hawk dry food, with high quality ingredients and appropriate kibble size, gives my puppies the nutrition they need to develop into high performing athletes. I am particularly a fan of the Black Hawk Puppy Large Breed - Lamb & Rice range, and my dogs love the taste. It is easy on young digestive systems and supports their growth all the way into adulthood. My puppy buyers loved their Black Hawk Puppy Packs that they received, and the 3kg bag of kibble included, makes the transition to their new homes a much smoother process. The puppies I kept from my latest litter are 8 months old now and still play with their original 'Black Hawk Droolly Dog' that they were given when they were 8 weeks old – it is their favourite toy.
Vanessa Joy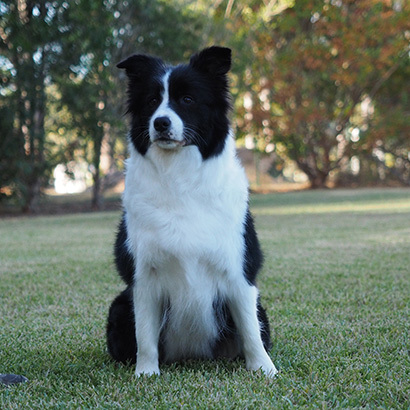 After 6 years of feeding our family of Border Collies exclusively on Black Hawk, we can certainly testify as to the quality of this great Australian range.
Our dogs are much admired, whether they are in the show ring or just out for a walk-in town.
Their weight is excellent, and the condition of their coats is amazing. Even our senior dogs have kept their youthful looks!
We love the puppy range too, resulting in a steady weight gain for the babies.
They leave home with their Black Hawk puppy packs, and strong recommendations that they continue their Black Hawk feeding routine.
It is just as important in maintaining a healthy family pet, as it is for show dogs."

Donna Schmelitschek
Dreamwood Border Collies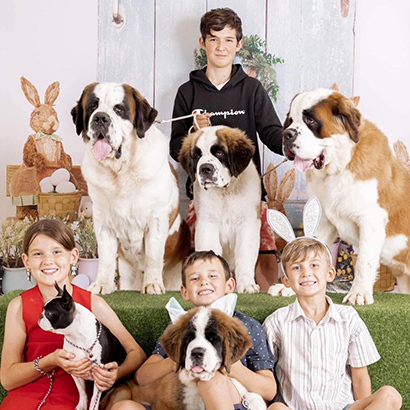 All good breeders know that the best start to a pups life is quality nutrition. Luckily thanks to Black Hawk Salhia Saint Bernards have quality food to provide to all dogs that come through our family home.

Saint Bernards are a giant breed that require particular ratios of macro nutrients to ensure that they grow correctly and at the right speed. Our dogs live life to the fullest competing in conformation showing, lure coursing and nose works, not to mention also being in a family home with 4 energetic kids.

To achieve all this, they need the energy to be active and healthy. Our food of choice is the Black Hawk Original Adult Fish and Potato but we really can't fault any of the Black Hawk range, we've tried it all and with great success. Plus, the puppy packs are such an awesome comprehensive gift to give over to our new puppy owners to start them off on the right foot.

We love that the Black Hawk MasterBreeder program assists to provide the best price which makes it an unbeatable option for premium food, unfortunately giant dogs come with giant food bills but this really makes all the difference along with piece of mind that our dogs are getting the best.

Salhia Family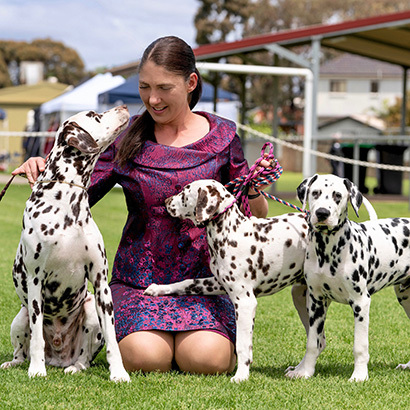 We initially joined the Black Hawk MasterBreeder program because we were impressed with the puppy packs they provided and thought they would be a great addition to send home with our current litter. After seeing how well our puppies flourished on it, we decided to feed our adult dogs Black Hawk, with great results, and we have been loyal Black Hawk feeders since.
Alicia Janonis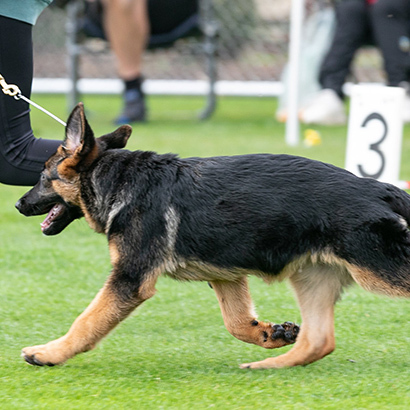 We have used Black Hawk on and off since we started our kennel in 2010. Due to our breeding and showing we have and will always use premium kibble. Black Hawk has always been our number one choice, therefore when the MasterBreeders Program was launched we placed all our dogs back on Black Hawk and they have never looked back, their coats and weight do not take any managing and from our 12 year old Roxet to our baby Sierra they all look amazing.
We use Black Hawk Original Adult Fish & Potato and Black Hawk Original Adult - Lamb & Rice alternatively and the kids just love the Black Hawk Kangaroo Jerky Treats.
All our babies are reared on Black Hawk Puppy Large Breed - Lamb & Rice. The Puppy packs are amazing (when presented people are very excited about their little box of joy) and we advise to continue to use Black Hawk Puppy Large Breed - Lamb & Rice.
Thank you, Black Hawk for creating the Master Breeders Program and enabling us to feed your amazing food again, you have made our dogs shine in the Show ring.
Thank you Black Hawk.

Glenn and Kristy Hall
Roxamburg German Shepherds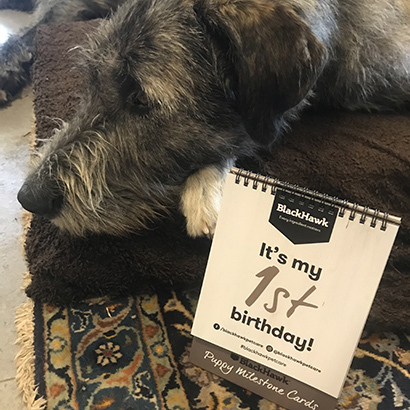 I am so pleased to have my dogs on Black Hawk, and to be a part of the MasterBreeders program. Giant dogs need to grow as slowly and evenly as possible to set them up for a healthy and sound adult life, and the Black Hawk Puppy Large Breed puppy food has been a wonderful starting point, giving them a high quality and balanced food perfectly suited to their needs. As their growth rate slows, I've moved them onto Black Hawk Original Adult - Lamb & Rice and they keep in really great condition, coat and energy. The MasterBreeders program helps me a great deal by making ordering food so simple, and then delivering it right to my door.
Anna Glynne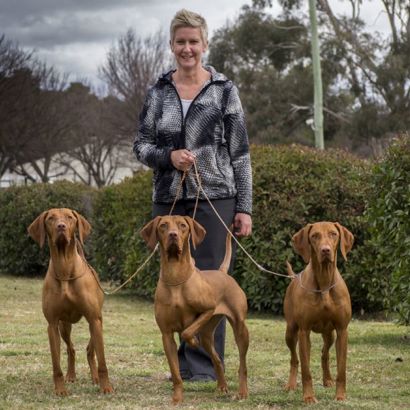 "We have owned Hungarian Vizslas for 27 years and in the early days dabbled with different food brands. Once our dog family numbers grew we wanted a food that we could source locally, that was within a good price range having to feed 8 dogs and one our dogs would do well on.
We discovered Black Hawk many years ago and were delighted that a local supplier stocked it in our "isolated" area and pricing was very pleasing.
Our dogs, from young ages up to 16 years old, over the years have found Black Hawk extremely palatable, we mainly feed Black Hawk Original - Lamb & Rice. We also like the fact we don't have to feed huge quantities to each dog for them to maintain their great condition.
We are proud to have joined the MasterBreeders program. The convenience of having Black Hawk delivered to our door is great and being able to provide future puppy owners a wonderful addition to their puppy packs is valuable."

Sian & John Hine
Gamecall Hungarian Vizsla
Interested in becoming a Black Hawk MasterBreeder?