We all want the best for our dogs, and feeding them a healthy dog food, as soon as you bring them home, is critical for their overall health and wellbeing.
The premium ingredients used in Black Hawk Original Dog Food are superior to other dog foods because they contain the highest quality ingredients including Australian sourced meat, fresh vegetables, pulses and fruits.
Black Hawk Original Dog Food lists meat as the first ingredient which means it contains a higher percentage of meat than other brands which contain more fillers. With more meat and less fillers, our original dog food recipes will nourish your dog from the inside out, optimising their overall health, vitality and wellbeing.
Black Hawk Original Dog Food is available in puppy food and adult varieties with specific formulas available for large breed puppies and small and large breed adults. Puppy Formulas are designed to meet the nutritional needs of your growing puppy, nurturing their brain and body for optimal growth and development, providing them with the best start to life.
Black Hawk Original Adult Dog Formulas are complete and balanced foods specially developed for adult dogs and designed to meet their vitamin and mineral needs, helping to maintain a healthy body and mind throughout your dog's life.
With Black Hawk Original Dog Food, you can choose between a variety of flavours including chicken and rice, lamb and rice, or fish and potato. Black Hawk Original Dog Foods are highly palatable, meaning they taste great! So you can rest assured that not only is it balanced, healthy and nutritious, but your dog will love the delicious taste.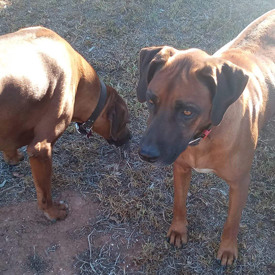 After using fish and potato my dogs allergies have subsided. What a relief for both of us!
Jackie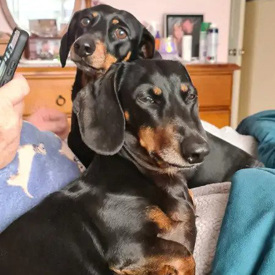 My knights in Shiny Coats

I've fed my two mini dachshunds this food since they were pups, they love it, the vet says they are a picture of health, good teeth and beautiful black shiny coats which I put down to the added emu oil. We will stick with this food!
Fiona, mum of 2 Mini Dachshunds