Bachelor of Veterinary Science, University of Sydney, Australia
Certificate, Companion Animal Nutrition, University of Illinois, USA.
Like all good vets, Dr Ada Siu joined the profession to help animals. She does this through preventative care, providing medical treatment, educating pet parents and supporting the development of pet products.
Joining a small animal practice in Canberra after graduation, she has since worked in a 24-hour emergency service in Western Sydney as well as in a PETstock clinic in North Western Sydney. 
A big fan of felines in particular, Dr Siu is the owner of two cats, Raja and Tigerlillie, who were stray kittens from different litters. Although she refers to them as her 'fur kids', she admits the relationship is more like a homestay parent to two teenagers! She is always thinking of ways to enrich their home environment to keep them mentally stimulated, which is especially important for indoor cats.
Being a vet and a pet parent, Dr Siu is passionate about ensuring pets get the best nutrition possible.
"Nutrition is the base of pet health, wellness and vitality, and has a role in preventing and managing certain diseases."
Joining the Black Hawk family as a Technical Services Veterinarian in 2019, Dr Siu was drawn to work with us due to our science-backed, natural health focus.
"Black Hawk are developing, adopting and exceeding international industry pet food standards," says Dr Siu. "Every team member is devoted to contributing towards general pet health by ensuring our products are of premium quality. And being Australian made, Black Hawk is supporting the Australian community by sourcing ingredients and manufacturing locally."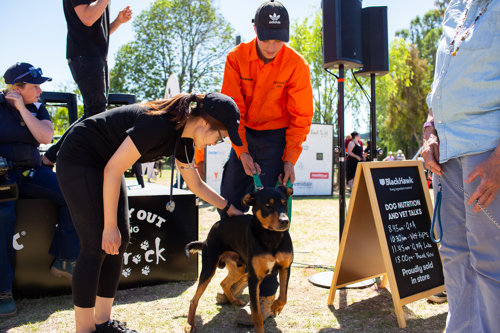 Appearing at Black Hawk Dog's Day Out in Armidale, held in collaboration with BackTrack Youth Works, was a highlight for Dr Siu. She got to see firsthand the special bond between the program's young people and the amazing working dogs, which reminded her of the significance of human-animal connection.