Bachelor of Veterinary Science (Murdoch University)
Bachelor of Veterinary Medicine & Surgery (Murdoch University)
Dr Lee Danks has worked in veterinary practices in Melbourne and London, as well as in several regional roles across England and Wales. With a particular interest in companion animal nutrition, Dr Danks also has experience in veterinary practice management, veterinary marketing, field sales and training.
Scientific communication is also an area of great passion for Dr Danks, contributing to clinical literature and giving university lectures to build on our collective understanding of the nutritional needs of dogs and cats.
"Dogs and cats give us so much and ask for so little, just a bit of attention and care…"
As part of the Technical Services Veterinarian team at Black Hawk, Dr Danks is closely involved with the formulation of our recipes, with full visibility from the start of the process to the end.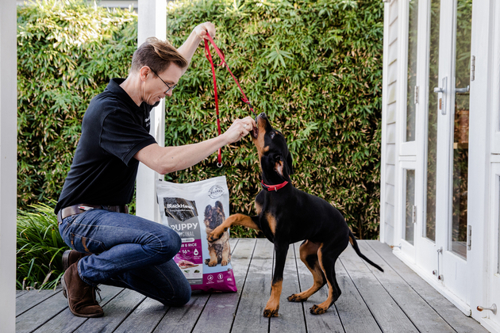 "Being able to engage directly with the product development process, to incorporate my vet and nutritional knowledge and experience with recent scientific findings, and to advise the Research and Development team with the intent of improving animal health is a gift," says Dr Danks. "The advantage of doing this within Black Hawk versus working in a veterinary clinic is that I can help many more pets, through food!"
Spending time with the BackTrack Youth Works team has been another highlight for Dr Danks, as it perfectly demonstrates the value we take from the companionship of our dogs.
Maggie, a highly sociable 8 year old rescue Staffie, reminds Dr Danks every day how animals truly live in the present. His previous pet, a British Blue cat called Oscar, taught Dr Danks to be grateful for his affection – "the gift of his glare or presence by my side to be petted (for only as long as he needed) was a great reminder that companionship comes in many forms," says Dr Danks.
"… if I can be part of the system that provides that care, and that gives even a little back to them, then I'm a happy man."
​