The key to a healthy and happy dog is feeding them a nutritious and balanced diet.
Our Black Hawk dog food recipes are complete and balanced foods specifically designed to meet their daily vitamin and mineral needs. Black Hawk dog food is highly palatable so you can rest assured that your dog will love the taste and look forward to eating it every day.
The taste they'll love, the nutrition they need
Unlike other brands that may appear cheaper, each individual component that makes it into the Black Hawk recipes has a nutritional purpose, so you'll never find wheat, corn, soy, gluten, artificial preservatives, colours, or flavours in our dog foods.
Black Hawk dog food is highly palatable so you can rest assured that not only is it balanced, healthy and nutritious, but your dog will love the taste and look forward to eating it every day.
Dog food for every stage of life
The key to a healthy and happy dog is feeding them a nutritious and balanced diet right from the very start. As your beloved pet grows, their dietary needs will change and their diet should reflect those changes. For instance, puppies need a nutrient-dense, high-energy diet to help fuel their growing bodies, while older dogs need lower-energy food that's formulated for joint health and other issues faced by older pets.
At Black Hawk, we've developed optimal dog food blends for puppies and adult dogs of all sizes, breeds and lifestyles to help support them through every stage of life.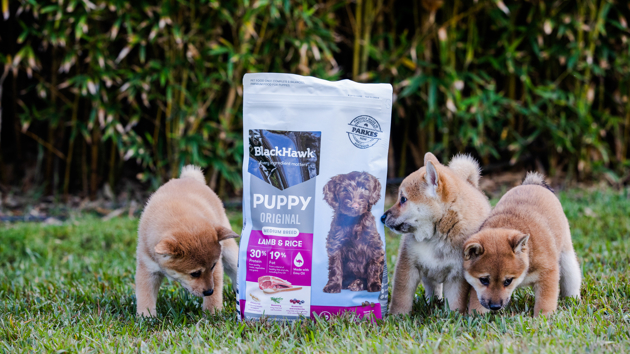 Puppy Food
Puppy Formulas are specifically developed to meet the nutritional needs of your growing puppy, nurturing their brain and body for optimal growth and development, providing them with the best start to life no matter their breed, age, size or level of activity. Our Ocean Fish Grain Free Puppy Food, for instance,  is ideal for growing pups and is made up of 46% fish, fish oil, natural poultry flavour and fat,  and 54% vegetables, fruits, vegetable oils plus all the essential vitamins and minerals for healthy growth.
We also offer specialist large breed dog foods like our Chicken & Rice Original Puppy Food For Large Breeds which helps aid controlled growth in larger breeds with added glucosamine and chondroitin to help support their joint health.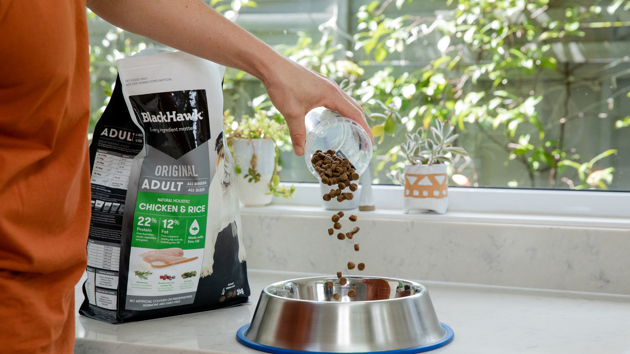 Adult dog food
Black Hawk Adult Dog Formulas are complete and balanced foods specifically developed for adult dogs and designed to meet their vitamin and mineral needs. Balanced nutrition is essential for maintaining a healthy body and mind throughout your dog's life. We stock a blend to suit any dog from our Lamb & Beef Working Dog Food for sustained energy in busy working dogs to our gentle and nutritionally balanced Chicken Grain Free Dog Food for Small Breeds
Frequently asked questions
What makes Black Hawk pet food so good?
To put it simply, the thing that makes Black Hawk pet food so good is our ingredients. Every ingredient in every recipe has been carefully selected by our team of vets and pet nutritional experts for its nutritional value – every item used in our pet foods provides a benefit, whether it's energy, immunity, joint health, digestive health or brain function.
As we say, "every ingredient matters", so everything we pack into our dog foods is there for the benefit of your dog or puppy. Here are some of the ingredients we use in our pet foods.
Fruits and Vegetables
Beet pulp – This powerhouse vegetable is a wholesome source of fibre that natually delivers prebiotics to help support overall gut health for happier tummies and healthy stools.
Berries – Full of vitamin C and other powerful antioxidants, our blend of cranberries and blueberries can help control free radicals and protect against cell damage. 
Carrots – A rich source of beta-carotene, which converts to vitamin A in the body and may help vision. 
Sea kelp – Iodine is essential for a well-functioning thyroid and this seaweed is packed full of it.
Sweet potato – A rich, natural source of fibre which can support the passage of food through your dog's intestine and assist the absorption of vital nutrients.
Herbs and Roots
Rosemary – Packed full of antioxidants and flavour, rosemary is also a natural preservative used to keep your pet's food fresher for longer and may improve cell function.
Chicory root – A superfood when it comes to natural prebiotics. Its high inulin content helps feed beneficial bacteria to keep the gut balanced, which may help with gas and flatulence. A healthy microbiome can support dogs with food sensitivities.
Grains
Oats – A good source of carbohydrate and dietary fibre, providing a slow-release energy source and essential nutrients to the body and digestive tract.
Protein
Chicken – A highly digestible, delicious, lean and versatile protein packed with amino acids which are essential for building strong bones and muscles.
Eggs – Can aid muscle growth and maintenance. Eggs are a complete source of essential amino acids, the building blocks required for body structures and functions. Eggs are an easily digestible protein boost, containing choline which supports normal liver function.
Kangaroo – A lean meat for strong muscles. Naturally one of the leaner meats, kangaroo is nutrient rich in zinc and iron. Zinc can help with skin health, while iron is essential for muscle growth.
Oils
Coconut Oil – For easy digestion. This fat supports healthy metabolism and provides energy.
Fish Oil – For healthy skin, a shiny coat and joint support. Natural source of EPA and DHA omega-3 fatty acids.
Black Hawk dog food is extremely rich in nutrients and is packed with only the best ingredients hand-selected for the benefits they'll bring to your pet. All the nutrition they need with no unhealthy or artificial ingredients and only natural preservatives.
Original versus Grain Free Dog Food – what's the difference?
At Black Hawk, we offer nutritious dog foods in both Original and Grain Free formulas in wet and dry dog food varieties. Grain Free Formulas are higher in protein and ideal for owners who wish to exclude grain from their dog's diet. Black Hawk Wet Dog Food can be fed as a complete, nutritionally balanced meal or in combination with dry food to supplement your dog's meal and provide some added variety.
Both Grain Free and Original dog foods are packed full of nutrition and come in a variety of options for dogs of different sizes and ages including specially formulated puppy food options.
Where is Black Hawk dog food made?
Black Hawk kibble is made at our new state of the art facility in Parkes, New South Wales, using fresh local ingredients, ensuring nutritional excellence and superior quality.
Our kibble is gently roasted at a lower and more even temperature, which creates higher palatability. Put simply, our kibble is even tastier.
We undertake regular audits not only of our ingredient suppliers, but of the factories which make our foods, to ensure compliance to our product specifications.
These sites adhere to good manufacturing practices, dictated by organisations such as the PFIAA (Pet Food Industry Association of Australia), and the NZPFMA (New Zealand Pet Food Manufacturer's Association). These organisations uphold and advocate for the highest standards of pet food production and PFIAA sets an Australian Standard (AS5812), acting as the 'public face' of the pet food industry.
When should I transition my puppy from puppy food to adult dog food?
We recommend transitioning your puppy from puppy to adult dog food between 10 and 18 months of age. Different sized breeds of dogs grow at a different rates, and generally smaller dog breeds are transitioned at an earlier age than large breeds. 
For smaller breeds (under 15kg), transition at around 8-10 months of age.
For medium sized breeds between 15-25kg in weight, transition at around 12-15 months of age.
For large breeds above 25kg, we recommend transitioning at around 18-24 months of age.
Can I give adult dog food to my puppy?
You should feed your puppy specially formulated puppy food. While it won't harm your puppy to occasionally have adult dog food if you run out of puppy food, adult food doesn't meet your puppy's nutritional needs. Puppy foods are typically more energy-dense compared with adult dog foods as puppies require more energy as they grow and develop.
Puppies also require higher levels of protein and specific amino acids, fatty acids, and minerals. Much the same way a human child's nutritional needs differ from those of an adult, a puppy requires tailored nutrition for the first 12 to 18 months of its life. 
At Black Hawk, our team of vets and nutritionists has developed a range of puppy foods formulated especially for growing puppies with calorie-dense and extra fatty formulas designed to help them grow, learn and develop.
Does Black Hawk dog food contain any additives or preservatives?
Black Hawk wet and dry food contains only natural preservatives. A natural preservative is one that occurs naturally in nature, as opposed to a chemical preservative that is made synthetically such as BHT, BHA or ethoxyquin which are often found in cheaper brands.
The natural preservatives we use in our products include rosemary extract, vitamin E (tocopherol) and vitamin C.
Is Black Hawk a "complete diet" or a "complete and balanced" pet food?
Yes. Our pet foods are specially formulated to provide a complete diet solution – this means your pet will receive all the vitamins, minerals, protein and nutrition they need from our pet food. It's important to note that every dog is different and your pet may have unique nutritional or medical needs which may require additional supplements to ensure optimal health. 
You can also supplement your best friend's diet with dog treats to help with training and as a reward for good behaviour. Oven-dried and made with natural preservatives, these treats can be used to teach your puppy new behaviours or to give your grown-up dog an extra treat.
What changes will I see in my dog after switching to Black Hawk?
When you switch from low-quality dog food to Black Hawk's premium Australian dog foods you may notice a change in your pet. The benefits from a nutritious diet will take some weeks to take effect, but the advantage it has to the health and vitality of your dog in the long term is what's most important.
Healthy, shiny coat – Thanks to the special blend of oils in our dog foods, your pet's skin and coat will be well supported by natural omega fatty acids. You may notice your dog's coat looking healthy and shiny with less shedding and dandruff. The high levels of omega fatty acids in the Black Hawk recipes may also help support your pet's natural skin barrier function.
High energy levels – Black Hawk dog and cat foods are all packed full of valuable, easily digestible protein, combined with our special oil blend which means your pet has more energy for running and playing. 
Less mess – One little-known benefit of an easily digestible, high-protein diet for dogs is the reduced amount of waste they produce. Because our formulas are easy to digest, more of your dog's diet will be absorbed and less will be excreted as poo, meaning less time spent cleaning up after your dog.
How do I transition my dog to a new brand of pet food?
You can get your dog to transition to a new pet food brand by adding a small amount of the new brand to its current food and gradually increasing the ratio until it has moved to the new brand. For example, you might start with 25% new food to old for the first few days, then up it to 50% for the next few and then 75% and so on. This not only helps your pet get used to the taste of the new food but also allows the good bacteria in your dog's gut to adapt to the new ingredients. 
The key when transitioning your pet from one diet to another is to do it slowly. Whether you're switching from puppy food to adult food or from one brand to another, veterinarians recommend taking at least one week or preferably two weeks to make the switch. If you rush your pet into starting a new diet too quickly they can experience diarrhoea or other digestive issues as their gut bacteria won't have had time to adapt to the new food. While these symptoms should pass on their own, seek immediate veterinary advice if your pet's condition deteriorates. We also recommend checking customer reviews before switching to a new wet or dry dog food.
How much should I feed my dog?
The amount of food your pet needs will vary depending on their age, weight, lifestyle and breed. Black Hawk pet foods come with a feeding guide which will offer a recommended serving size for your dog.
It's important to take into account changes to your pet's lifestyle when following the standard feeding guide – remember, these guides are general and your pet's needs may vary. For instance, if you are walking your dog less during the winter months or your pet isn't as active as it used to be it's important to cut down its serving size to ensure your pet doesn't gain too much weight.