See what some of our Black Hawk fans have to say about their cats and dogs thriving on Black Hawk.
If you and your pets would like to be featured here, please send us an email describing why you love Black Hawk along with two high resolution images and we will display the best submissions here. Email us at masterbreeders@blackhawkpetcare.co.nz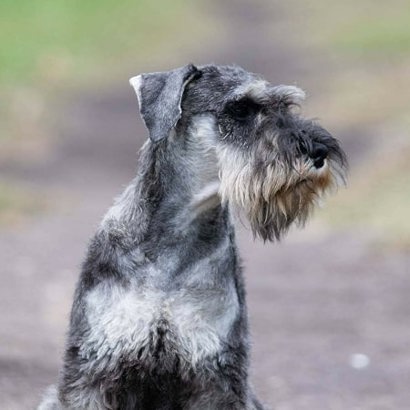 We started using Black Hawk after we had considerable problems with Gut health in our Miniature Schnauzers, particularly a stud dog we imported from Australia. We were feeding at the time a grain free food considered one of the best in the world. We have had amazing results since changing to Black Hawk, our dogs never have any problems with their gut, their coats shine and they have heaps of energy. When we were having problems, we did a lot of research about the best diet for Miniature Schnauzers and found, because they can get pancreatitis and bladder stone problems, they needed to be fed a diet high in protein and low in fat.

We have found if you mix Black Hawk Original Chicken & Rice with one of the grain free varieties, this delivers the right balance for Miniature Schnauzers. I do also put in some Black Hawk Original Fish & Potato for that extra shine. Our Miniature Schnauzers never suffer from the allergies that seem to plague so many Miniature Schnauzers. Schnauzinn Kennels loves Black Hawk, we feed it and totally recommend it. We raise all our puppies on it and they thrive. 
Dayle Olding
Schnauzinn Kennels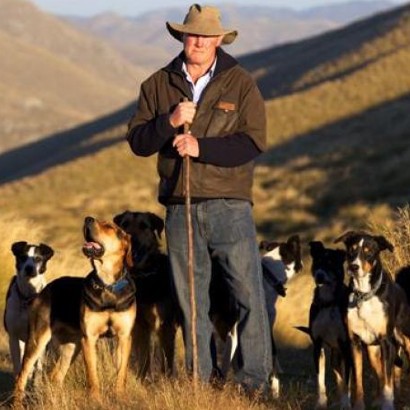 Lloyd Smith is a farmer, top sheep dog trialist and renowned working dog trainer.

When it comes to the best nourishment for his dogs, he says "Our dogs enjoy the Black Hawk Working Dog formula and are in good condition. The ones that always had trouble keeping a good coat really shined up. They have the ability to turn up day after day, even after really big days, and are ready to go in the morning. They seem to recover well.

Also, I can see that puppies raised on the Black Hawk puppy formulas are very healthy, have nice shiny coats and a good appetite - you can tell they have had a good start to life."

Lloyd says that an innate desire to please goes a long way in a dog's success as a working dog and, like all good keen workers, working dogs should be allowed to use their initiative wherever possible. The one command that must be obeyed, and immediately, is to come. The farmers' 'wayleggo' cry that echoes around New Zealand's hills is a contraction of 'come away and let them go'. He says that if you can teach your dog these 6 commands, you've pretty well got control of it.

1. Come (or 'wayleggo')
2. Go (to send them off)
3. Left
4. Right
5. Stop
6. Approach the stock
Lloyd Smith
Pup Pen to Paddock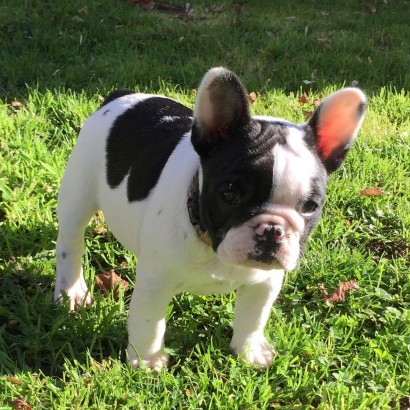 Over the years as dog lovers and breeders we have tried many different types of food for our dogs. We are always looking at what is best quality for our dollar and naturally healthy for our dogs . We find with Black Hawk the dogs thrive, their coats are always shiny, they hold condition well and generally healthy and energetic. Over all we have just reared our first litter of french bulldog puppies on Black Hawk small breed puppy soaked just to soften - the puppies are healthy with no upset tummies look great. Thanks Black Hawk also for your great customer service.
Mark Murray
Ghostgum Kennels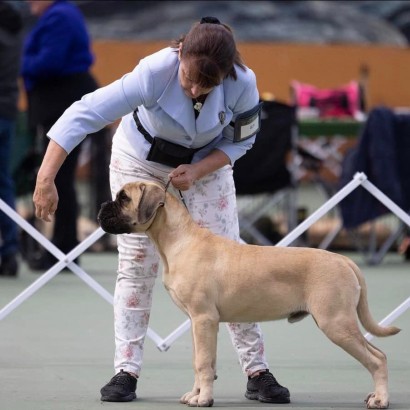 I am Tracey Robinson from Bodacious Bullmastiffs.  We have owned Bullmastiffs since 2003.  We show, occasionally breed and we love to share our bullmastiffs with the public.

When I mated my Bullmastiff bitch I started her on Black Hawk Large Breed Puppy Chicken and Rice kibble. She blossomed during her pregnancy and although she carried ten puppies and whelped all 10 naturally, her coat and general health was exceptional.
Her pups have been raised on Black Hawk Large Breed Puppy Chicken and Rice kibble. 

They are all gaining weight as expected becoming beautiful bonny puppies.  Many of our puppy buyers who have viewed the pups compliment them on the lovely feel and look of their coats.
Tracey Robinson
Bodacious Bullmastiffs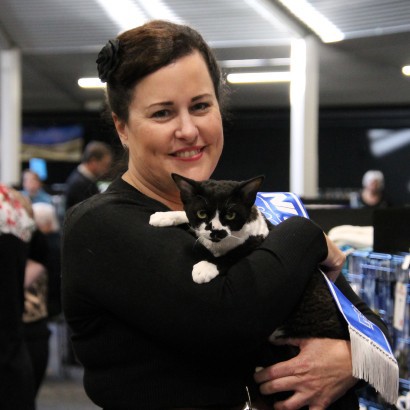 I have been breeding cats since 2001, currently Longhair Devon Rex, Balinese and Javanese under the SlinkiWinks prefix.
I have been feeding Black Hawk Cat and Kitten foods since it arrived in New Zealand in 2017 exclusively. Why? The food was designed by a breeder and is full of natural goodness!
I was sick of supply issues for pet food manufactured overseas, changing formulas causing upset tummies and additives in the food. A food manufactured "cross the ditch" meant no lengthy delays in the supply chain and the ingredients held no surprises.
I have recommended Black Hawk cat foods to many people who have reported improved health & elimination of skin conditions in both dogs and cats they have moved onto Black Hawk products.

My cats love the Chicken & Rice dry food and kittens grow up on this along with the BlackHawk wet food – Chicken with Peas.

Di Hobson
Curliwinks Cattery
Interested in becoming a Black Hawk MasterBreeder?