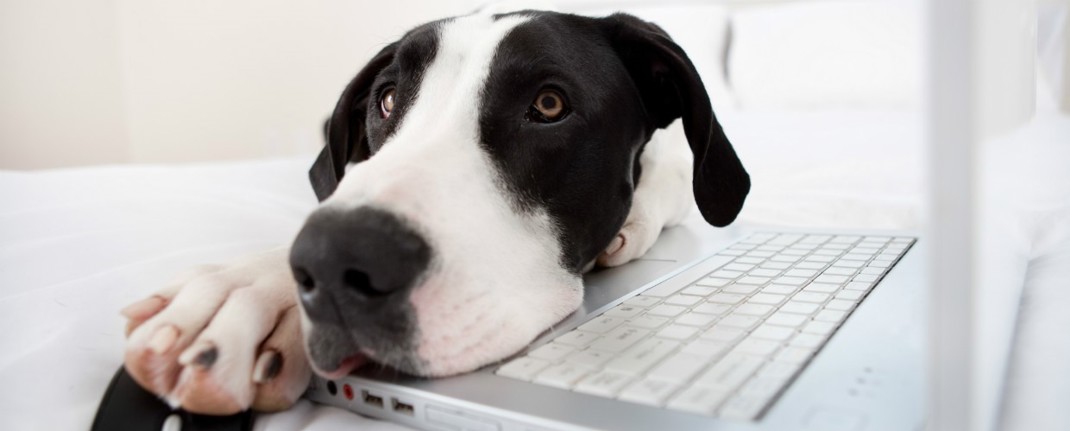 Many people across Australia and New Zealand took the additional home-time gained during the coronavirus pandemic as an opportunity to welcome a new companion into their family. But what do you do once you have to return to the office? Here are our tips for integrating your pet into your new 'old' life.
You've adopted a pet!
If you adopted a new companion during the coronavirus lockdown to keep you company, you're not alone. For example in Australia, animal welfare charity PetRescue recorded a 200% increase in enquiries for pets year-on-year. They also documented nearly 15,000 pet adoptions just in Australia between March 1 and April 30 ­– that's twice the usual number.
Now, some pets may not mind if you're suddenly spending less time at home when you return to the office, however, for others it may be a little more challenging. And there's no question that the thought of leaving them alone might be challenging for you, too. Chances are you've spent most of your time together over the past few months and built a strong relationship.
But there's no need to worry. No matter your situation, there are ways to transition your new friend to a new routine, so you can enjoy life together for many more years to come.
1. Carve out a safe space for them
It's important your pet has a designated spot in the house or outside that's their own and makes them feel safe. This could be in a corner of the house where they can observe what's going on, but can keep a comfortable distance from everything (and everyone) should they feel like it.
2. Create predictability for your pet
Creating a daily routine your pet can rely on is also a big part of making them feel secure, especially as you move towards returning to work. An important step is ensure you're consistent in your communication, so they know what to expect and when. For example, meal and play times should happen on a rough schedule.
If you have a dog and your new routine interferes with your previous walking times, you should dedicate a new time slot in your day to accommodate it, such as before and after work. If they're a little puffed when you finally leave the house, they're more likely to feel content being alone and perhaps even peacefully nap away a big chunk of the day.
3. Start going out for short stints
Leaving your pet alone for short periods can help them build resilience, reduce anxiety and reassure them, little by little, that you will always return. You might start by going out for five minutes, then 10 minutes, then work up to an hour or more. Over time, your dog is likely to feel more and more comfortable with being alone.
4. Take them places
These days, there are plenty of opportunities to include your four-legged friend in your social outings. In addition to hanging out at friends' places, more and more venues, such as cafes pubs and markets, now happily welcome furry companions. Some even plan special dog-themed occasions, such as 'doggy Halloween' or 'dog trivia' to draw in more paws.
Your pup will likely happily lounge at your feet while you enjoy brekkie or a refreshing drink at your local. Just make sure to double-check with the venue that they're welcome before heading off.
Many workplaces have also adopted a more tolerant mindset when it comes to bringing your dog to work, so you could also chat to your boss to see whether your pup could accompany you on some days. Alternatively, they might be willing to agree on a more flexible arrangement that lets you work from home when possible.
5. Help your dog cope with loneliness
Some dogs are comforted by background noise when they're alone, so switching on the TV or radio may help create the illusion of people being nearby. During winter, you could also leave a light on for your dog or set a timer, so it comes on when the sun goes down.
Leaving your pooch with some interactive toys can also help keep them busy. There are apps and smart devices, that allow you to maintain contact with your dog and 'talk' to them remotely. Some even dispense treats at the push of a button.
6. Don't be afraid to seek support
Some pets just don't do well being left alone for long stints, which you might not have noticed while you were still working from home. A dog walker could break up your pup's day by taking them for a quick spin or you could book them into puppy day care to keep them entertained. Alternatively, a trainer or behaviourist may be able to help you and your dog to your new 'old' lifestyle.
Switching from a working-from-home routine to one where you're spending more time away from home can be difficult for both you and your furry friend.
Building trust and integrating them into a new life won't happen overnight, but with patience, consistency and understanding, you'll be able to grow your dog's confidence, and make them feel safe and loved – whether they're with you or waiting for you at home.